Test Lab Update – January 2015
In October 2014, I wrote an article about what I was looking to build in my new home test lab. Since then I have been hard at work setting it up and I have made a number of design changes since then. Here is an update on my progress…
Updated Network Diagram
Since October, I have bought some new hardware and have also changed my mind on the hardware I was originally going to use. Originally, I was looking at using 2 x Mac Mini Core i7 (Late 2012) with 16GB RAM as my two test lab hosts, however after I purchased my first Mac Mini and realised that even with 16GB RAM I can only have around 6 or 7 usable VMs on the Mac Mini at one time. For this reason, I decided against purchasing a second Mac Mini and rather built my own VMware ESXi White Box machine.
I have updated my network diagram to reflect all of the changes I have made, including the upgraded of my internet router to a NetGear R8000: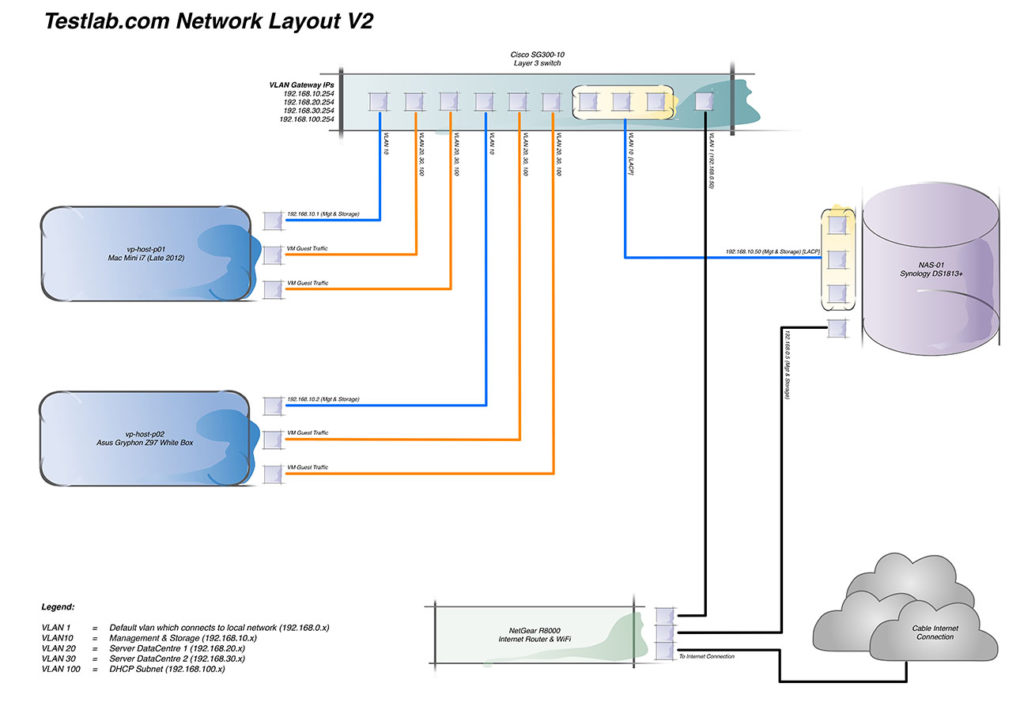 ESXi White Box
In addition to being able to use 32GB RAM and a much faster and more energy efficient CPU, my white box is also used for a second purpose…. the occasional gaming machine. I ended up building VMware ESXi 5.5 on a USB Flash Drive and then installed Windows 8.1 on the SSD so that I can dual boot when required.
Before getting into the details of the build I thought I would document my requirements:
Smallest form factor possible
Lowest power consumption possible
As quiet as possible
Minimum 32GB of memory
Ability to install a full-sized graphics card
At least 3 x Gigabit Ethernet NICs
Be able to dual boot between ESXi and Windows
Has to look awesome
After much research, I decided to go with a micro-ATX sized machine that supports a full-sized GPU and a closed loop water cooling block (for quiet and efficient cooling). I also added an Intel quad port Gigabit NIC to be used in my VMware environment. Here are all of the specs of my ESXi White Box:
Corsair Carbide Air 240 Black Case
ASUS Gryphon Z97 Motherboard
ASUS Gryphon Z97 Amour Kit
Intel Core i7 4790K 4.0Ghz Quad Core CPU
Corsair 32GB DDR3 1600 Vengeance Pro Red
Samsung 840 EVO 250GB SSD
EVGA GTX 970 SuperClocked ACX 2.0
Intel Quad Port Gigabit Ethernet Controller
Corsair H100i CPU Water Cooler
Corsair SP120 Quiet 120mm Fans x 2
Corsair AF120 Quiet 120mm Fans x 2
Corsair HX750i Platinum Power Supply
Corsair Link Commander Mini
Corsair Link RGB LED Lighting Kit x 2
Corsair Sleeved Modular PSU Cable Kit Red
Corsair Sleeved Modular ATX Cable Red
I am not going explain the reason why I used each component, however if you are interested in the selection of a particular component, then send me a comment below.
Here is what the final build looks like:
Server Rack
My other major upgrade was I a 12RU server rack which contains all of my test lab and most of my home network components. The only reason why I did this was so that my test lab was organised and clean, especially the network cables as they can get messy really quickly.
In addition to the rack, I colour coded my network cables – yellow for test lab, black for internal network. I am not going to go into too much detail, but I will say that the server rack is awesome, not only does it look really good but it keeps it dust free and relatively cool too.
Here is what my current test lab looks like:
In addition to building and configuring the physical components of my test lab, I have completed my VMware vSphere 5.5 install, using distributed switches and host profiles. I did have a few issues (which have and will continue to document), however I can report all is working well and now with the additional resources am able to test heaps of new things!!
If you have any questions or comments, let me know below.
Thanks
Luca