How To – Create custom VMware ESXi Image
If you are installing VMware ESXi on a server \ computer, sometimes you might run into a problem where ESXi cannot detect a Network Adapter (NIC) and therefore will not allow you to continue the installation. The reason for this is because the native ESXi installer does not contain the drivers for the NIC you have installed. This is the situation I found myself in recently when building an ESXi host in my home test lab.
To resolve this problem, we need to inject the drivers into the VMware ESXi installer image and therefore create a custom VMware ESXi image. Although this sounds hard, it is actually pretty easy. Below are the steps required to achieve this…
VMware ESXi Image Customizer
First step is to download the latest version of the VMware ESXi Image Customizer. At the time of writing this it is v2.7.2. You can download it from here >> VMware EXSi Image Customizer.
Once downloaded run the exe which will extract the application into a folder of your choice. In that folder you will find ESXi-Customizer.cmd which is executable for the application.
Downloading the required drivers
Next you need to find your NIC model and download the driver (in .tgz or .VIB format). My ESXi machine has a Gigabyte GA-Z77X-UP5-TH motherboard which has an onboard Intel Gigabit Ethernet NIC. For this I found that the E1000E drivers seems to work, so I managed to find a E1000E.tgz copy somewhere on the internet and I downloaded them to my local computer.
If you are using an Intel Gigabit NIC then you can try the same drivers I have, so you can downloaded them from here >> Intel Gigabit Ethernet NIC Drivers.
Creating a custom VMware ESXi Image
Now that we are ready, lets inject the drivers into the vanilla VMware ESXi Image and then create our own custom image. To do this, follow these steps:
Navigate to the folder you extracted the VMware ESXi Image Customizer
Run ESXi-Customizer.cmd
From the window that appears, browse and select the vanilla VMware ESXi Image
Next, browse and select the .tgz or .VIB file you want to inject into the image
Finally, select a "working" folder which is where the final customized VMware ESXi Image will be found
Click on Run to build your custom image
The tool will inject your drivers and create a customised VMware ESXi Image ISO file. You can find this file in the specified working directory
Here is a screenshot of my ESXi Image Customizer window prior to creating my custom image: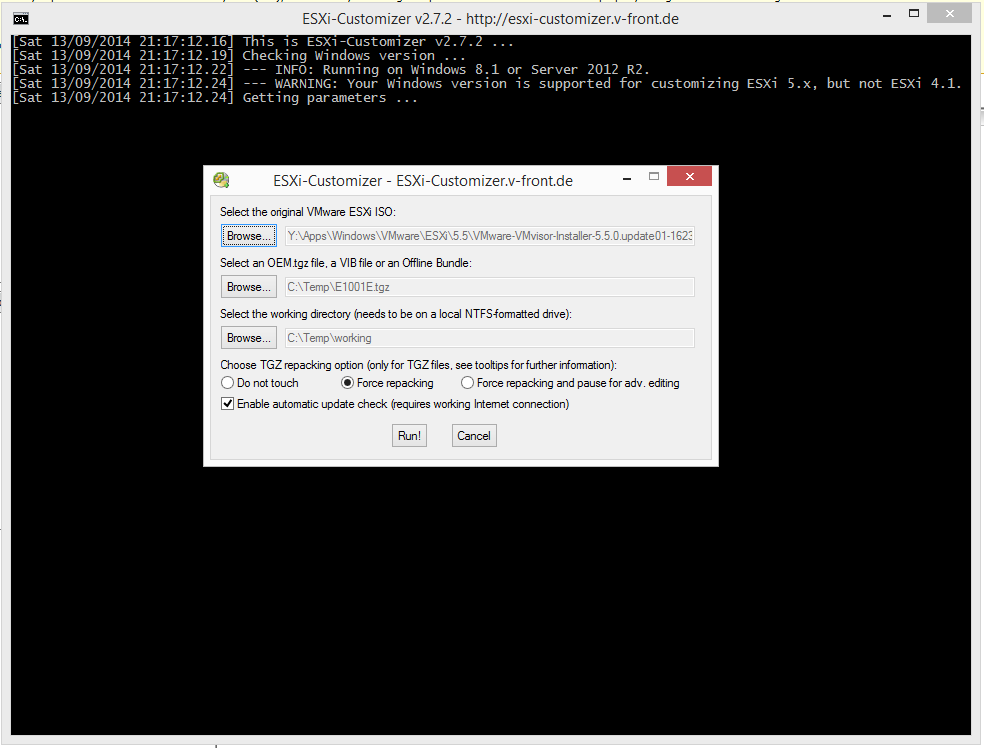 What if I can't find my drivers?
If you can't find a .tgz or .VIB driver file for your NIC, then do not worry you can easily create your own! To do this, just follow the ESXi Community Packaging Tools instructions.
Final Thoughts
Now that you have your ISO file you can burn it to CD \ DVD or you can create a bootable USB or alternatively if you are using a proper server you can use the Out-of-Band Management tool to virtually mount the ISO and build the server.
I went down the bootable USB path and used a tool called Rufus to do so. If you are interested, you can download Rufus from here.
That is it. If you can any questions, comments, ideas or suggestions then let me know below.
Thanks
Luca